Mayor Requires Vaccination of City Workers, Dr. Chokshi Urges Vaccinated to Mask in Public Indoor Settings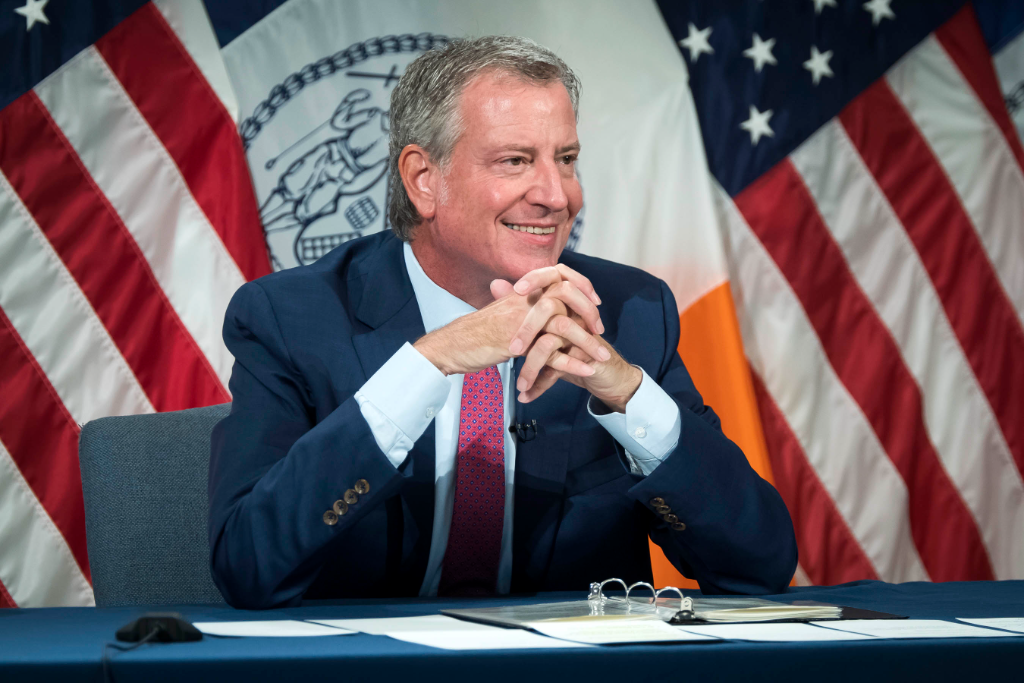 By Yehudit Garmaise
Mayor Bill de Blasio announced today that "every single new person hired in city of New York must provide proof of vaccination," or they cannot start their jobs.
"This is another step we are taking as we intensify the vaccination effort," said the mayor, who added that although the city has vaccinated more than 10 million people, that number is not yet high enough. "[Vaccination mandates] are the shape of things to come: incentives and mandates will be working together to vaccinate everyone. We need to maximum vaccination, which is having a profound impact. Even with the highly virulent Delta variant, we are seeing very little hospitalization among the vaccinated.
"We need to keep moving on what will make an impact."
The mayor also urged New Yorkers, not just to get vaccinated, but to download the COVID Safe app, which will prove vaccination status "in a world where more and more is going to open up to you when you are vaccinated.
"Vaccines are the number one most weapon against COVID. Everything is vaccine-centric. Everything has changed because of vaccination."
In addition, the mayor added to the current mask-mandate, which already requires masks on subways, busses, and congregate settings, by adding that now, with the highly contagious and rapidly spreading Delta variant, both vaccinated and unvaccinated New Yorkers should mask once again, in public indoor settings.
"We serve new Yorkers, and nothing is more important than their health," said Dave A. Chokshi, the city's health commissioner. "Every activity is safer once you are vaccinated, and now we have a new legacy for city workers, who are now required to be vaccinated before they start working."
In terms of private businesses, the mayor encouraged them to initiate their own vaccine requirements.
"We want to affirm and support all the businesses that require vaccination of employees and customers," the mayor said. "Anything and everything they can do to require vaccination, we support them."
Dr. Chokshi, for his part, today "made a strong recommendation that regardless of vaccination status, New Yorkers should mask in indoor settings, while those who are unvaccinated must also continue to mask outdoors, as well.
"The Delta variant can spread even more easily than was thought," said Dr. Chokshi, who said that people should mask: especially when they are with people whose vaccination status is unclear.
Dr. Chokshi said that although he had both had COVID and has been vaccinated, he will be masking to protect his young child, who is not eligible, for vaccination.
Masks also offer an important level of protection for those immunocompromised, who should be wearing masks that fit snugly, or maybe even two masks: a cloth mask on top of an N-95, Dr. Chokshi said.
"The vaccines are the closest thing we have to a knockout punch," Dr. Chokshi insisted.
"We want to emphasize vaccination, vaccination, vaccination," said the mayor, who also said he wants to "get the maximum vaccinations for kids who are in the 12 to 17- year-old range, before they return to school in a few weeks.
"We could put this problem to bed if just everyone would get vaccinated," the mayor said. "Let's get this right. This is a watershed moment to get everyone vaccinated."
Credit: Ed Reed/Mayoral Photography Office.