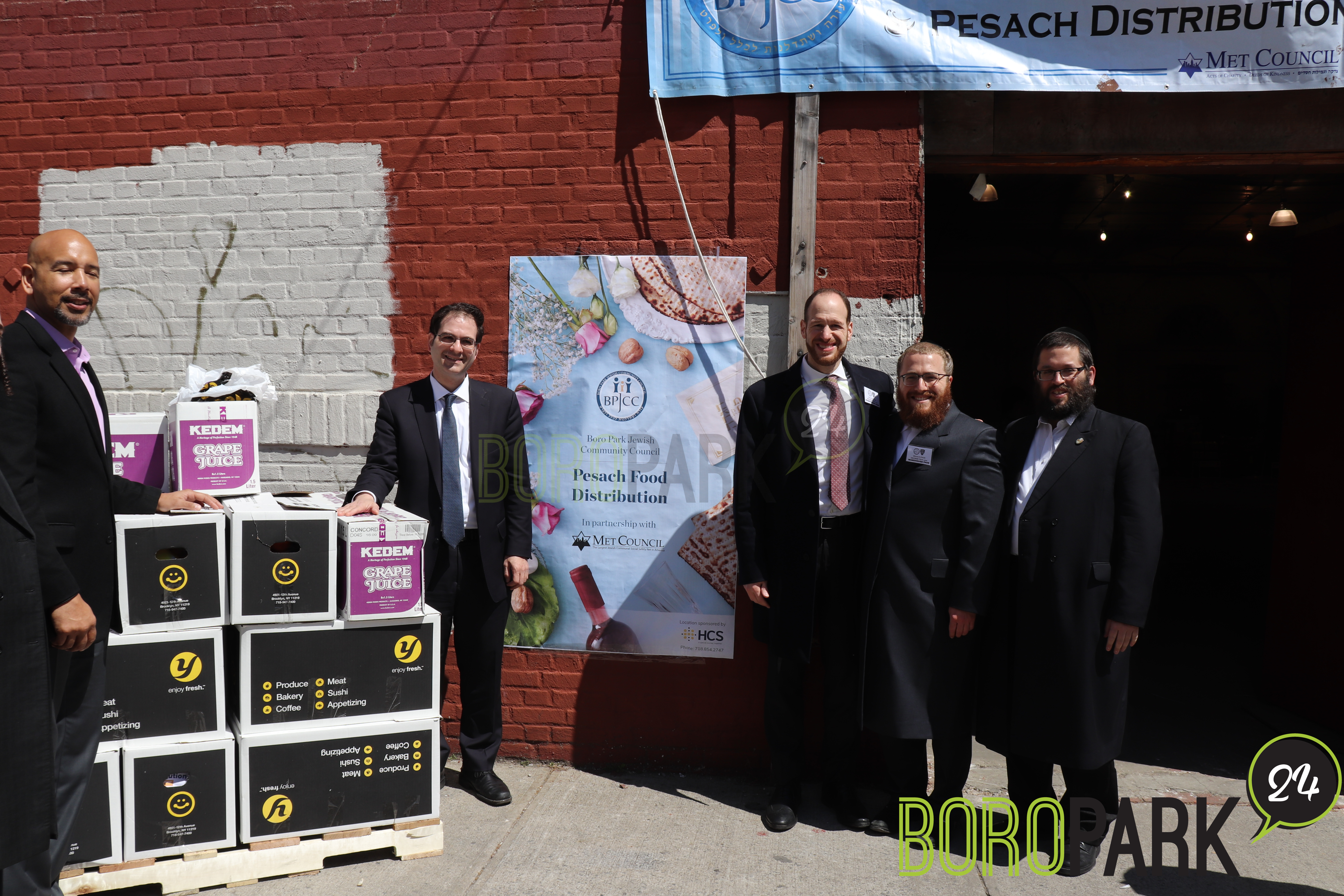 Brooklyn, NY, This year's Boro Park food distribution event had a total of over 1,000 needy families equal to more than 6,500 vulnerable and insecure individuals participating. The local families were supplied with Passover staple food items during BPJCC's annual holiday food distribution. The food was high-quality and was sponsored by Met Council, and the distributions was choreographed in partnership with Boro Park Shomrim. The food distribution took place on yesterday, Wednesday, April 10.
"This is my third year directing this critical food drive," says BPJCC CEO, Rabbi Avi Greenstein. "It is an incredible feeling to stand at the forefront of an organization like the BPJCC which is always here to assist people from every walk of life in whatever way possible. The holiday food drives are just one initiative of so many others which help make a huge difference for countless individuals and which make me proud to play an integral part in such an amazing organization."
The huge warehouse in which the distribution took place was sponsored by HCS (formerly known as Human Care Services). Boxes were donated by Yidel's Supermarket; and the trucks, which were central and critical for assuring an expedited delivery process, were donated by Yidel Perlstein from Lucky Truck Rentals.
"This year, the majority of our deliveries were home deliveries," says Rabbi Greenstein. "We partnered with a number of Boro Park kehillas who were able to directly identify families within their community with the strongest need so that we knew our food was going to where it was needed most."
"Many families who are able to make it year-round struggle with the high-cost of Pesach," says David G. Greenfield, CEO, Met Council.  "That's why we at Met Council triple our food distributions before Yom Tov. Met Council is proud to provide food and programming support to Boro Park JCC for thousands of Boro Parkers. This year, together with Boro Park JCC, we are providing more free food for Pesach than ever before.."
The Passover food distribution event was attended by local leaders and elected officials including Councilman Kalman Yeger, Councilman Justin Brannan, Bronx Borough President Rubén Díaz Jr, District Leader David Schwartz as well as others who came out to show their support for the BPJCC and what it represents as well as to lend a hand in assisting the community.
"It is always great to visit with friends and leaders in the Boro Park community," says Rubén Díaz Jr., "especially as people are beginning to prepare for the upcoming Passover holiday.  I am glad I was able to help out with the Met Council and BPJCC food drive and see first-hand all the work they do for so many New Yorkers in need."
The Boro Park Jewish Community Council was formed in 1997 to address the urgent social service needs of individuals and families residing in Boro Park. To that end, the BPJCC operates a wide array of social services and programs to assist clients in obtaining government benefits and entitlements with the dual goal of providing immediate relief and simultaneously directing them towards a path of self-sufficiency and independence.